Services
Your ideas made tangible by our team of engineers and architects
Design and Custom Manufacturing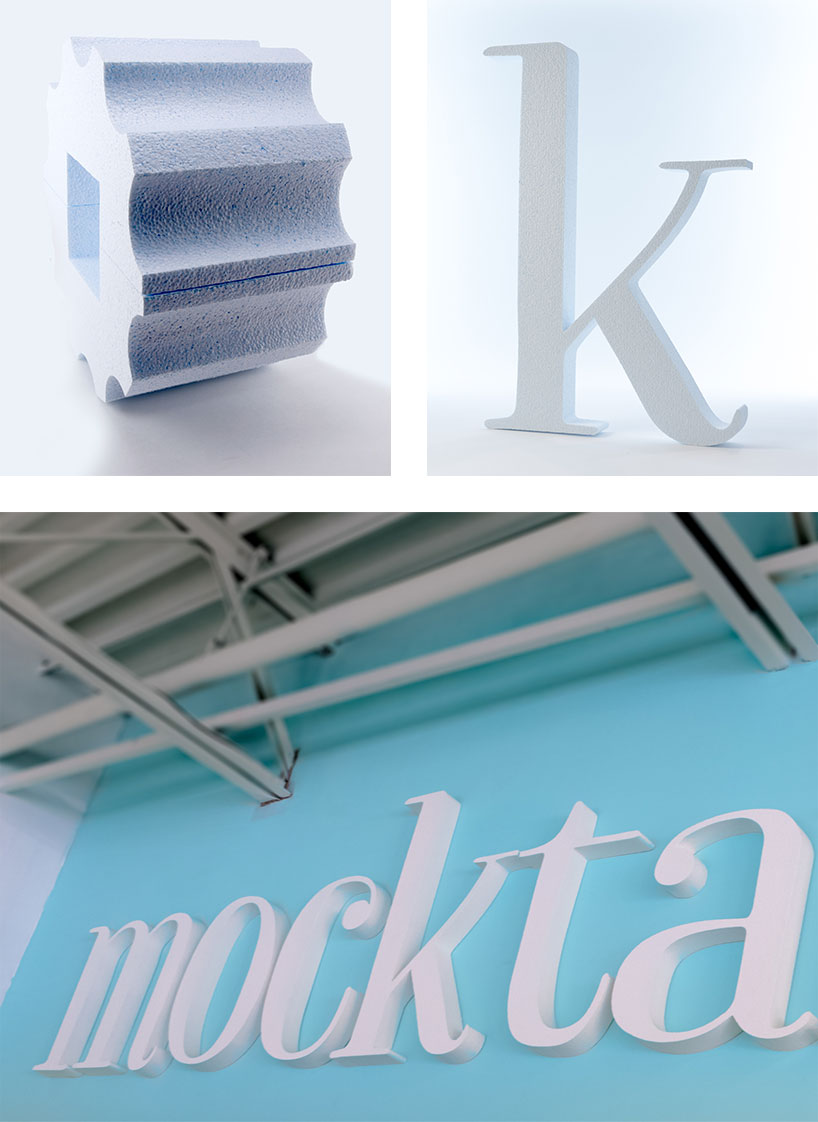 Styro Rail offers services for design and custom manufacturing of products for specific design needs. This includes non standard dimensions and special shapes. EPS can be used with a wide variety of materials and shapes, therefore the cutting of EPS in 2D or 3D shapes is a product that is both light and has multi-purpose qualities.
The Styro Rail team of engineers and architects will assist you in determining the optimal shape in EPS that will respond to your needs. A 3D concept, concept drawings, shop drawings as well as prototypes are supplied when the shape required is complex and the assembly detail requires them.
Whether it be for a product designed for one time use, or an assembly of many different parts or for production of many similar parts, the custom made cutting of EPS parts is a economical alternative to the moulding manufacturing
Spa and septic tanks covers
Logos and ready to paint large shapes for corporate events
Exterior exposition structures
SIP panels for pre-fabricated walls
Insulating pieces for roof trusses
Insulating forms for slabs on grade
Extra thick panels for passive houses
Specific cuts for packaging
Etc.
Shape Moulding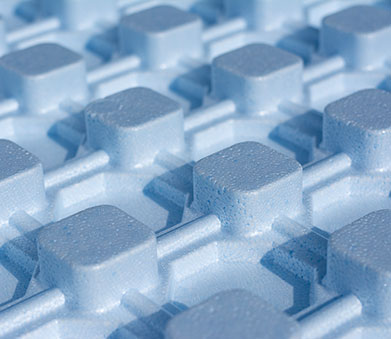 Styro Rail offers shape moulding services for products that require in-line production.
Insulated concrete forming
Packaging
Insulation for radiant floor heating
Flower boxes
Etc.
Lamination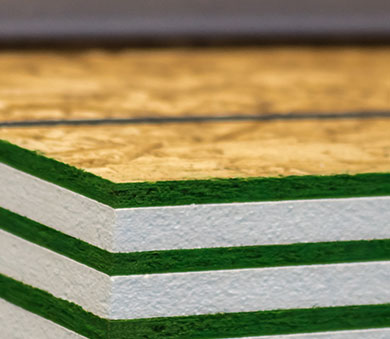 Styro Rail offers a laminating service where EPS is laminated to various construction materials. These construction materials can be rigid, semi-rigid or plastic films that may be laminated using compatible bonding agents: OSB, plywood, aspenite, magna board, cardboard, kraft paper, plastic films, vapour barrier, air barrier, etc. These panels may be delivered on pallets or rolls depending on the laminated material, packaged or not. This finely tuned and state of the art equipment allows for ship lapped panels on 1 or multiples sides.
Packing and Filling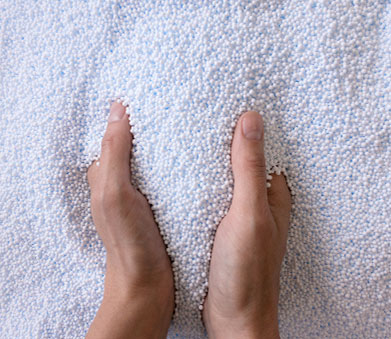 Styro Rail offers filling and packing services using polystyrene beads. The beads can be used for the equipments destined to the mattresses industry, health care sector and recreational settings.
Different densities are offered depending on the quality and durability desired. These polystyrene beads are commonly used in bean bags and rehabilitation pillows applications.
MTQ │ MTO Certificate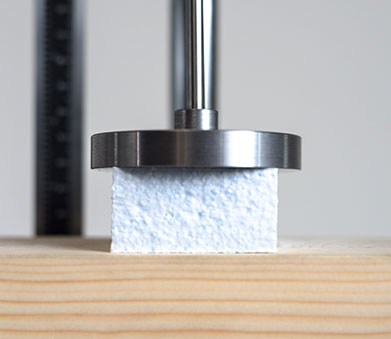 Styro Rail can provide letters of conformity for the expanded polystyrene that is part of the road infrastructures for projects managed by the Ministry of transportation of Québec [MTQ] and the ministry of transportation of Ontario [MTO]. The light weight fill blocs are tested by an independent laboratory and an official rapport is provided for each project lot.
Recycling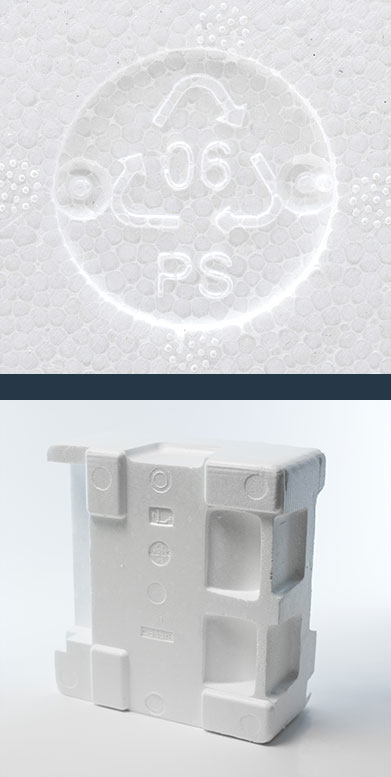 Styro Rail recycles 100% of its post production waste material and participates in various post consumer collection programmes where expanded polystyrene number 6 is collected and recycled in our facilities.
Expanded polystyrenes with recycled content
The majority of the products manufactured by Styro Rail contain a certain percentage of recycled material, this depending on the client requirements.
Products containing a very high amount of recycled material are available for specific projects upon request.
Collection of EPS from institutions, companies and municipalities
Styro Rail will further aid businesses and municipalities who desire to participate in the recycling program of number 6 expanded polystyrene by implementing collection points and further implementing the recycling programme in place.
Shop Drawing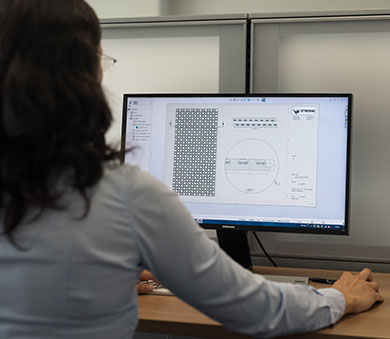 To control the quality and accuracy of our finished products, Styro Rail draws, conceives and provides shop drawings to the client for their approval before production of custom projects.
Installation Drawing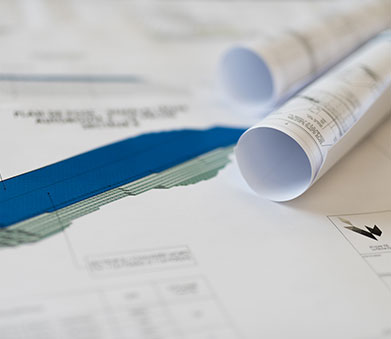 For large-scale projects or when custom products needs to be installed following a specific sequence or the products have a special shape and size, Styro Rail provides specific installation drawings to facilitate the onsite installation.
LEED® Certification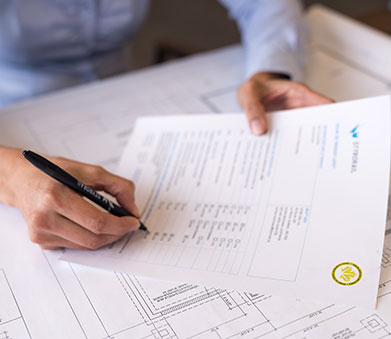 The Styro RailTM products can contribute to LEED® credits for Optimizing Energy Performance, Recycled Content, Regional Materials,   Low-Emitting Materials, [Adhesives and Sealants], Construction Waste Management and IAQ Management Plan for the Pre-Occupancy Phase.
Please send us your LEED® Material Declaration Form at leedproject@styrorail.ca.
Consultation [Research and Development Projects]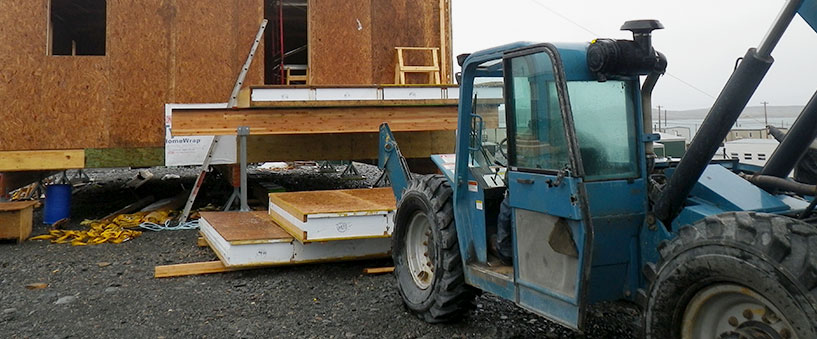 Styro Rail regularly participates in research and development comities organised by various governmental groups such as Natural Resources Canada. Styro Rail also acts as a consultant to many pilot projects in which the efficiency of the envelope is a necessary design component of the project.
Styro Rail also collaborates with contractors in the development of building concepts and practices for design competitions and public tenders. Notably, the high efficiency homes built in 19 communities in Nunavut.
Super Insulation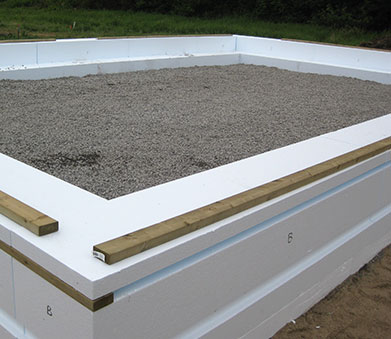 Styro Rail offers its consultation services for the design and manufacturing of EPS products which are part of the composition of buildings that wish to achieve certification from the Canadian Passive House Institute [CanPHI].
The technical support offered by Styro Rails architects and engineers allows the client to shape the concepts developed by the designers of passive buildings.